Round 1 (Season Kickoff: Hampton Downs National Circuit) Rundown
The Prowear NZ Superlap Series returned for the 2017-18 season with a season opener at the Hampton Downs National Circuit. The leadup to raceday was particularly tough with a number of drivers suffering setbacks in the final hours of their off-season enhancements – the round one curse. A strong field of almost 40 drivers who did make it down to the track were all able to post times and put points on the board, which should put some extra pressure on the drivers who missed out to attend all remaining rounds as they will have already used up their drop-score for the season.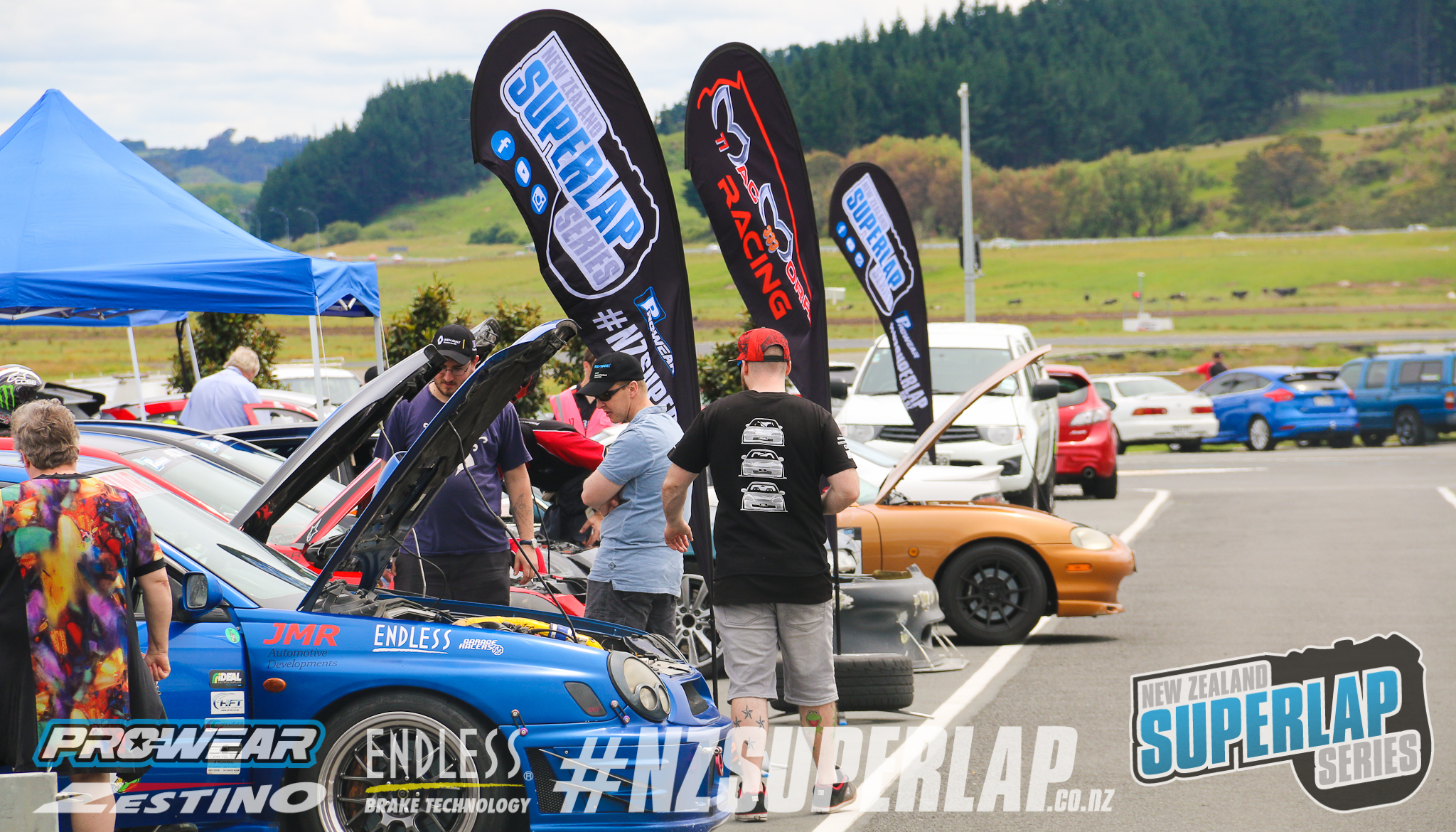 Pro Open noticed the absence of some of our regulars – notably Tony Satherly (as the 666 Racing Evo was stuck on a boat after a delayed return from World Time Attack in Sydney), 3 Rotor Racing's Andy Duffin was also giving his crew some well-deserved rest after WTAC, while Hans Ruiterman hadn't quite managed to get the engine back in his Silvia after some improvements. This left things wide open for newcomer Murray Bell to take out top honours with a 1:09.053 in his F20C-swapped FD RX7 – with maximum points on the board I hope we will see more of Murray in future Superlap events. Glenn Hodges made his competition debut in the newly rebuilt 'Mad March' after a number of private test days and while Glenn took it easy to begin with, the car was comfortably down in consistent 15s with a best of 1:15.498 for the weekend. Geoff Sutherland's Commodore set a great first lap of 1:16.282 before a mechanical failure abruptly put an end to his weekend – we hope Geoff can work some magic and get the car sorted for round 2. While many cars have spent the off season undergoing engine work, Greg Hirst has been locked away in his shed adding as much aero as schedule A will allow and this weekend was his chance to test it. There is still some work to be done, and Greg struggled to match his 15 from last season, finishing on 1:16.602 – more tweaks and testing will no doubt see those times drop significantly when we return to Hampton for the final round. David Brew's 200sx no longer lags as a drift car amongst grip racers, all of the changes David made over the last season are really starting to show and he was right on Greg's tail with a 1:16.685 (a new PB by more than 3 seconds). Pierce Clarke added some colour to the grid in this sunshine yellow & sky blue Civic – he battled some issues but laid down a respectable 1:20.358. Rounding out the Pro Open cars was Mark Greaney in his BMW 328 on 1:23.045 and Maneesh Naidu in the old faithful Integra who slipped in a few laps between crewing duties to come away with a 1:23.801.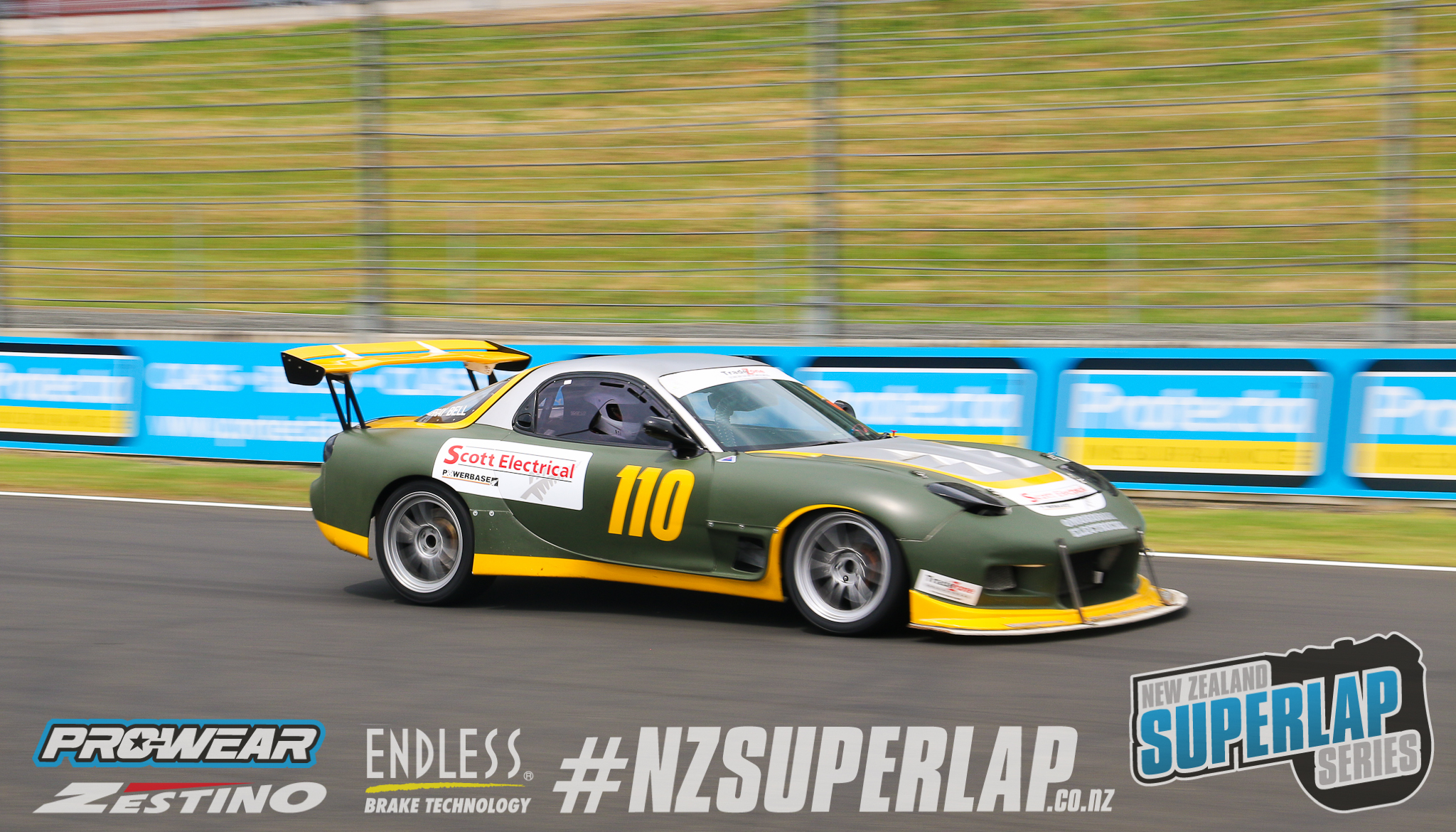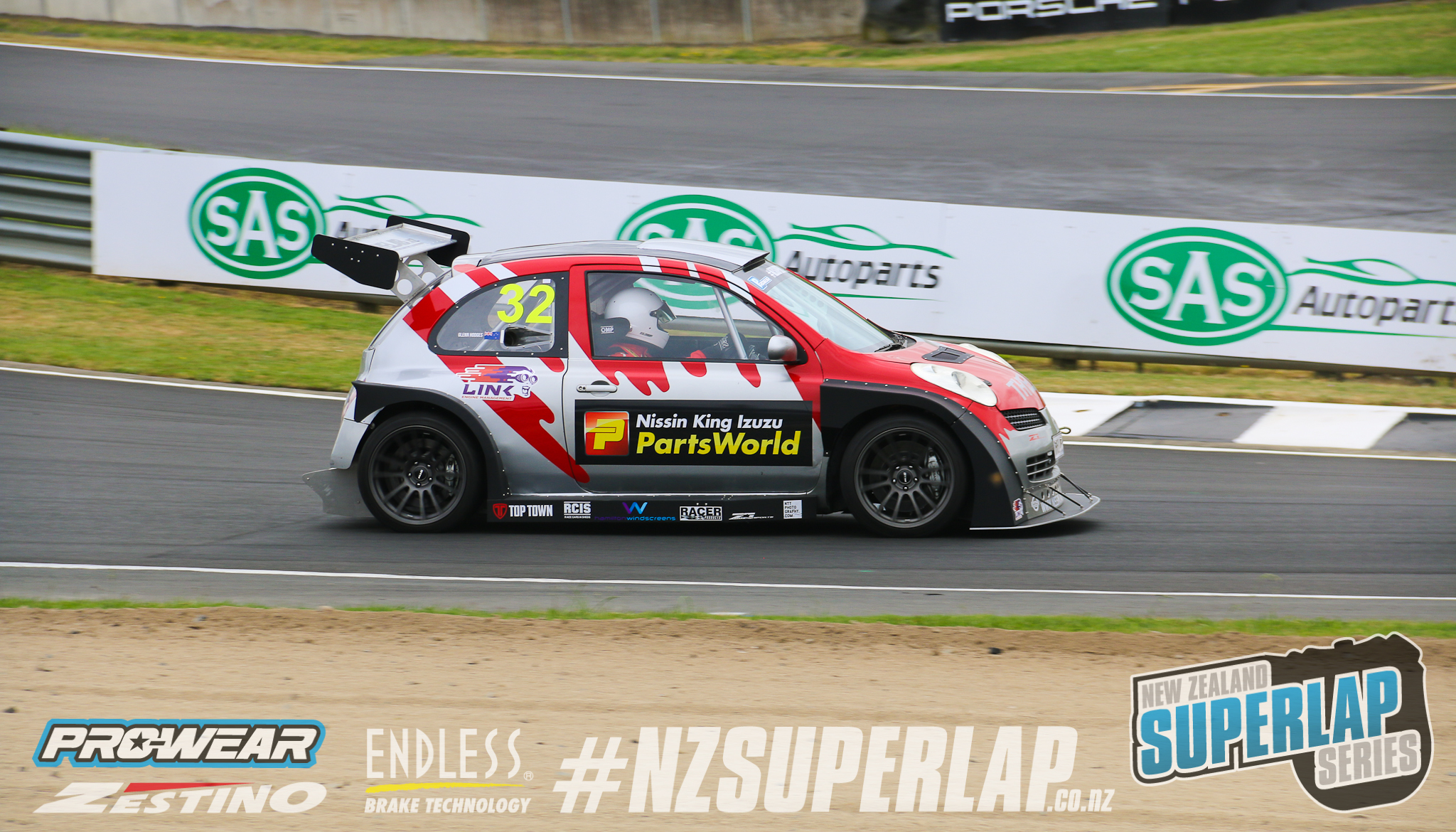 Pro Street 4WD was a tiny but mighty field of just four cars (where the 4WDs at?). At the pointy end was the cool, calm & collected Andy Brooking who pushed his R32 GT-R around the track in a blistering 1:08.970, smashing almost a full second off his PB – and remember that this is a road legal car running on semi-slicks not full slick tyres. A standout effort from Andy (another second and the Pro Street lap record is yours!). Jason Xu's SilverBullet R35 GT-R went out for an early exhibition lap with Iain Clegg behind the wheel to set a new PB for the car getting it into the 11s, then Jason got into the drivers seat to clutch that elusive ten (1:10.673). Steve Vodanovich was competing his first full Superlap season after a half season in 2016-17 and kicked it off in great style with 1:15.877 only to be beaten by his son on an exhibition lap with 1:15.281 – lucky for Steve the exhibition laps don't count for points so he keeps his spot on the leaderboard. Morris Mustchin's WRX wasn't on song over the weekend and had to make do with a best of 1:19.385, still a great effort for some last minute repairs the night before racing installing a spare axle to attempt to sort some diff issues. Nothing like a bit of last minute motorsport to keep things interesting.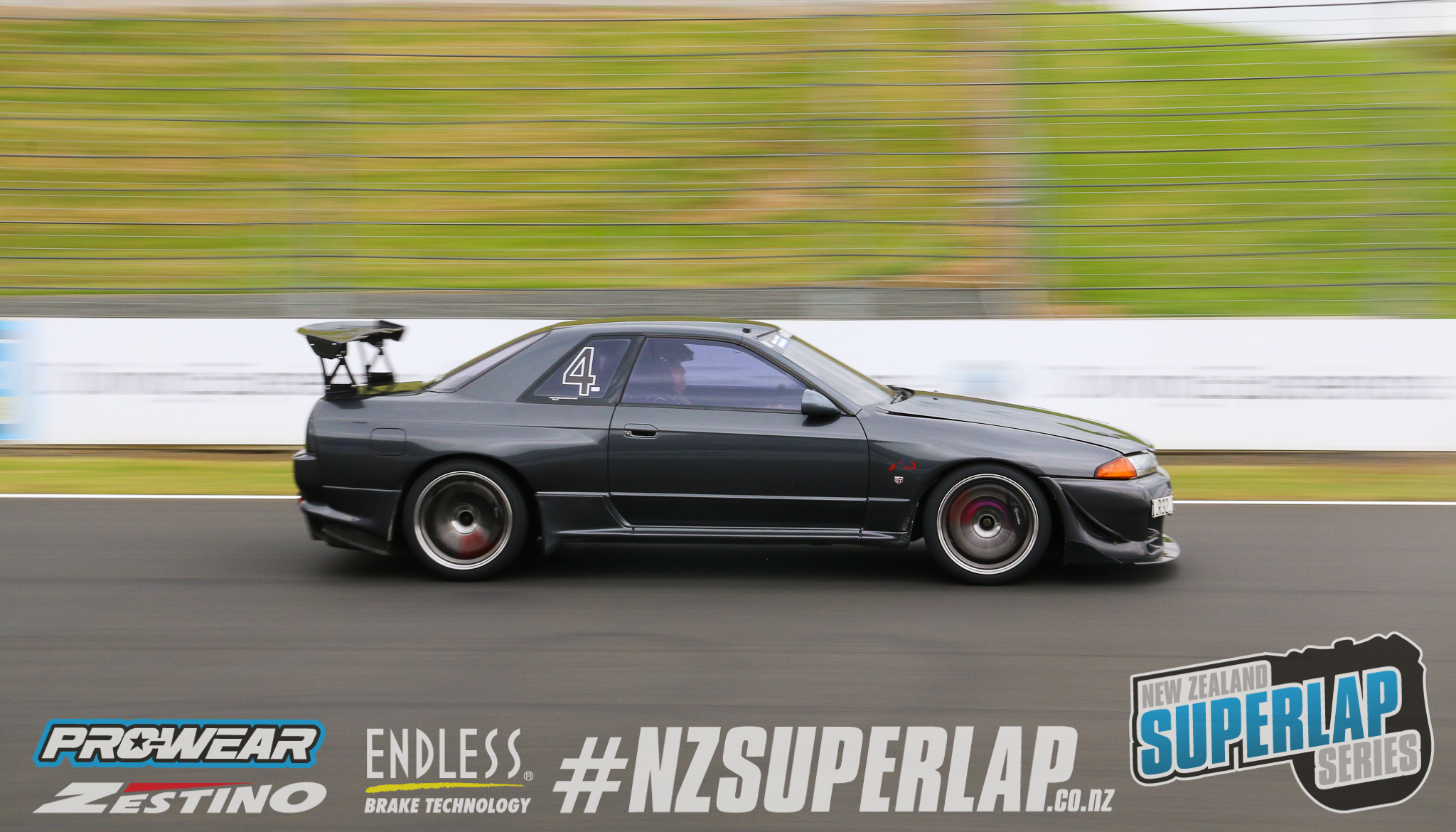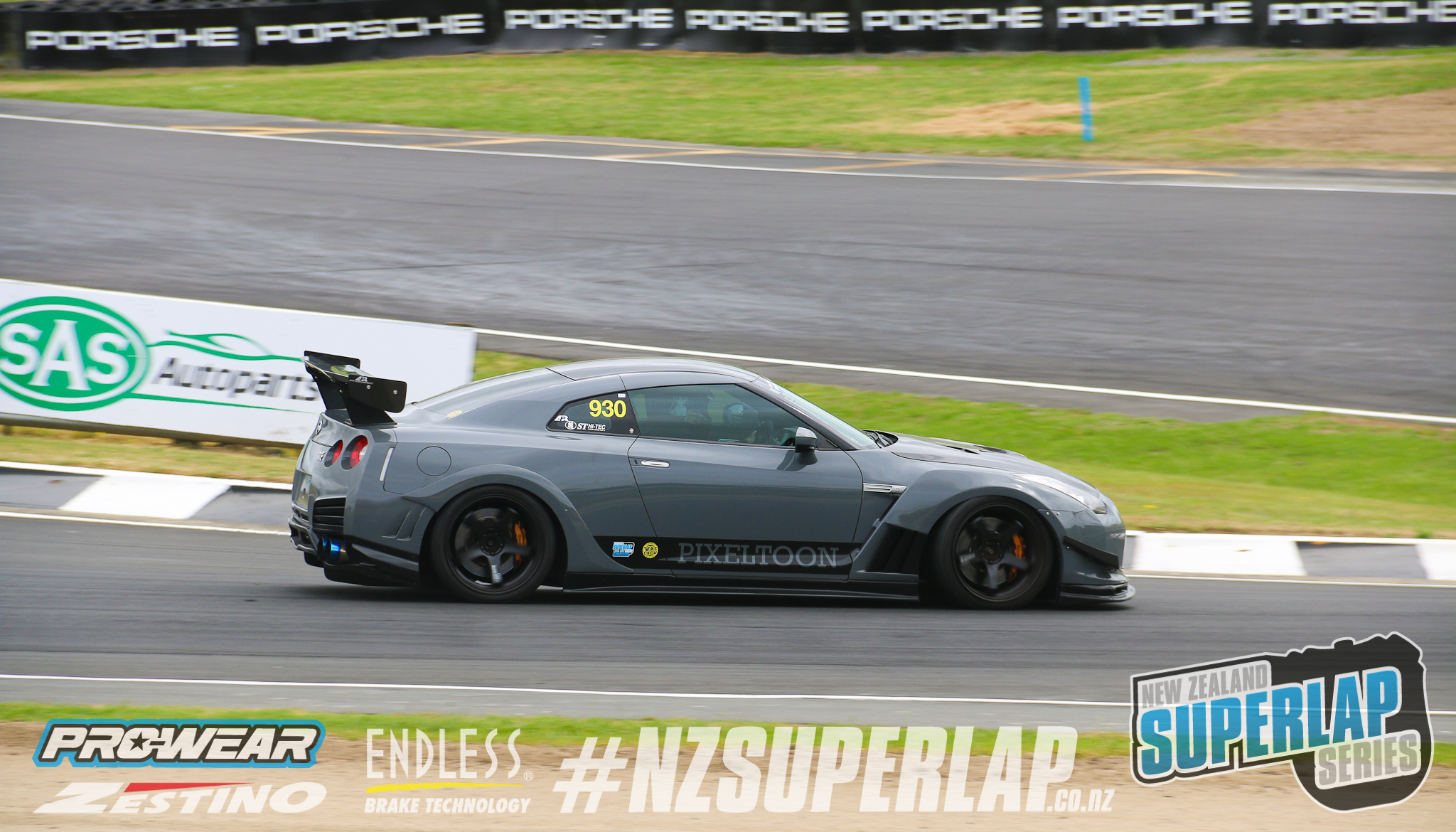 Pro Street 2WD proved to be a popular class, led start to finish by Mark Collier's little MX5 shaving off one thousandth from his PB for 1:13.022. Second spot belonged to Darryn Cairncross having his first competitive outing in his freshly built 20B FD RX7, he took a chance running a stock gearbox and it didn't let him down posting a best of 1:14.187 with plenty more in it to come. Brian Matchett's Commodore was a full second better than last season, coming home with a 1:15.022. John Stewart's Integra was super consistent all weekend and was rewarded with a new PB of 1:16.360. Andrew Holden is a newcomer to Superlap and his Trueno was a favourite to watch and set a 1:17.836. Team MacMorris Racing in their MPSs took out 6th & 8th spots for Jason Morris on 1:18.065 (another new PB), and Khan 'I'm taking a season off' Mackesy on 1:19.993 – it's great to have these two and all of their friendly supporters back this season. Slipping quietly between them was Neil Johns who ran on the Sunday only in his Porsche Cayman for a best of 1:19.371. Elliot Carleton's stripped out Levin busted out a 1:21.385, while Bradley Haines was sporting a stunning new livery and XXL wing on his Savage Performance Silvia – and while he couldn't quite match his best times from last season a 1:24.016 was still a strong time, and they looked great out on track doing it for the internet likes and tinder swipes. At the back end of the Pro Street 2WD field was Brian Schofield who has a nightmare of a weekend after doing significant upgrades to the Commodore in the off season – all we can say is it's only up from here for Brian.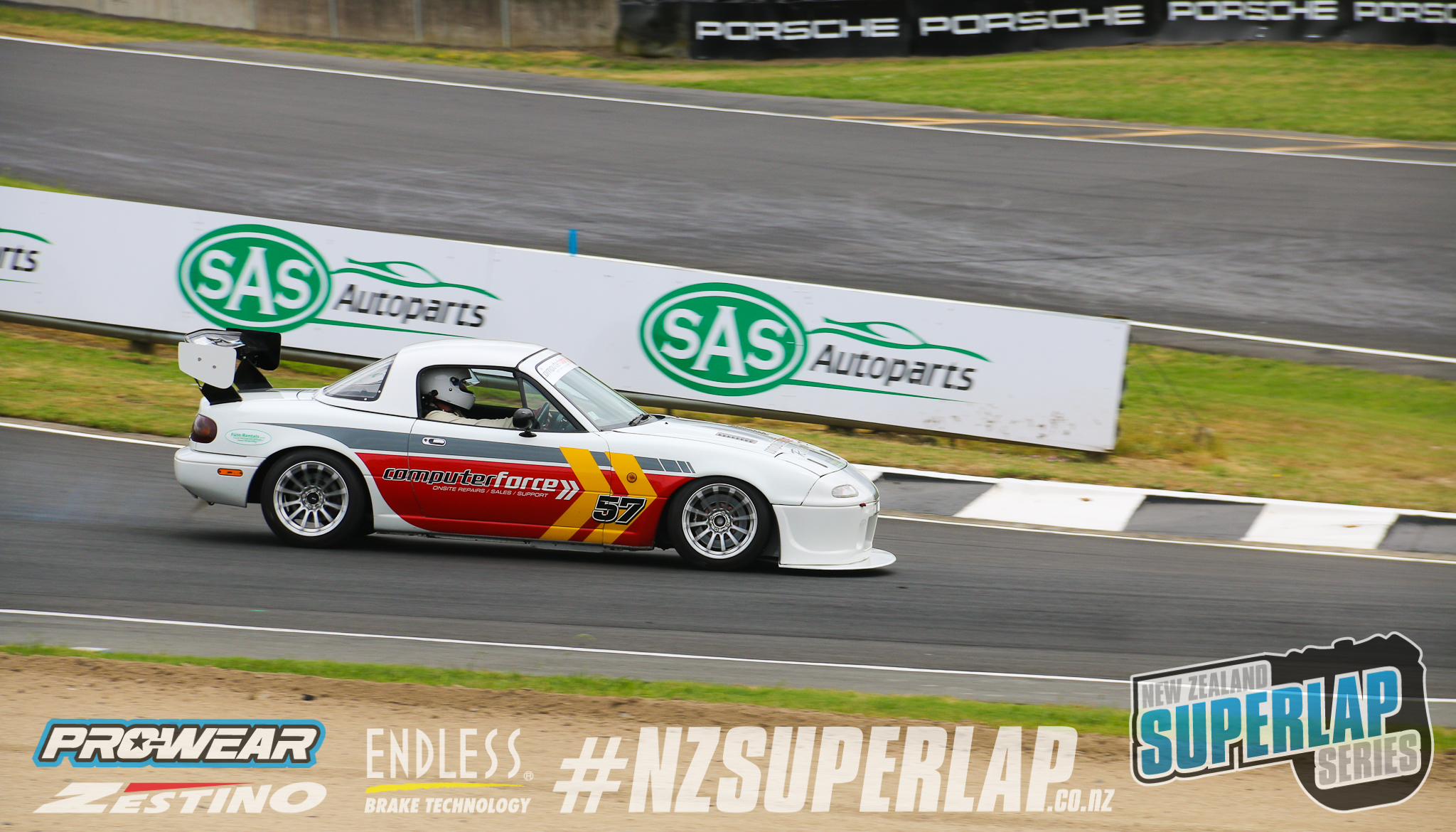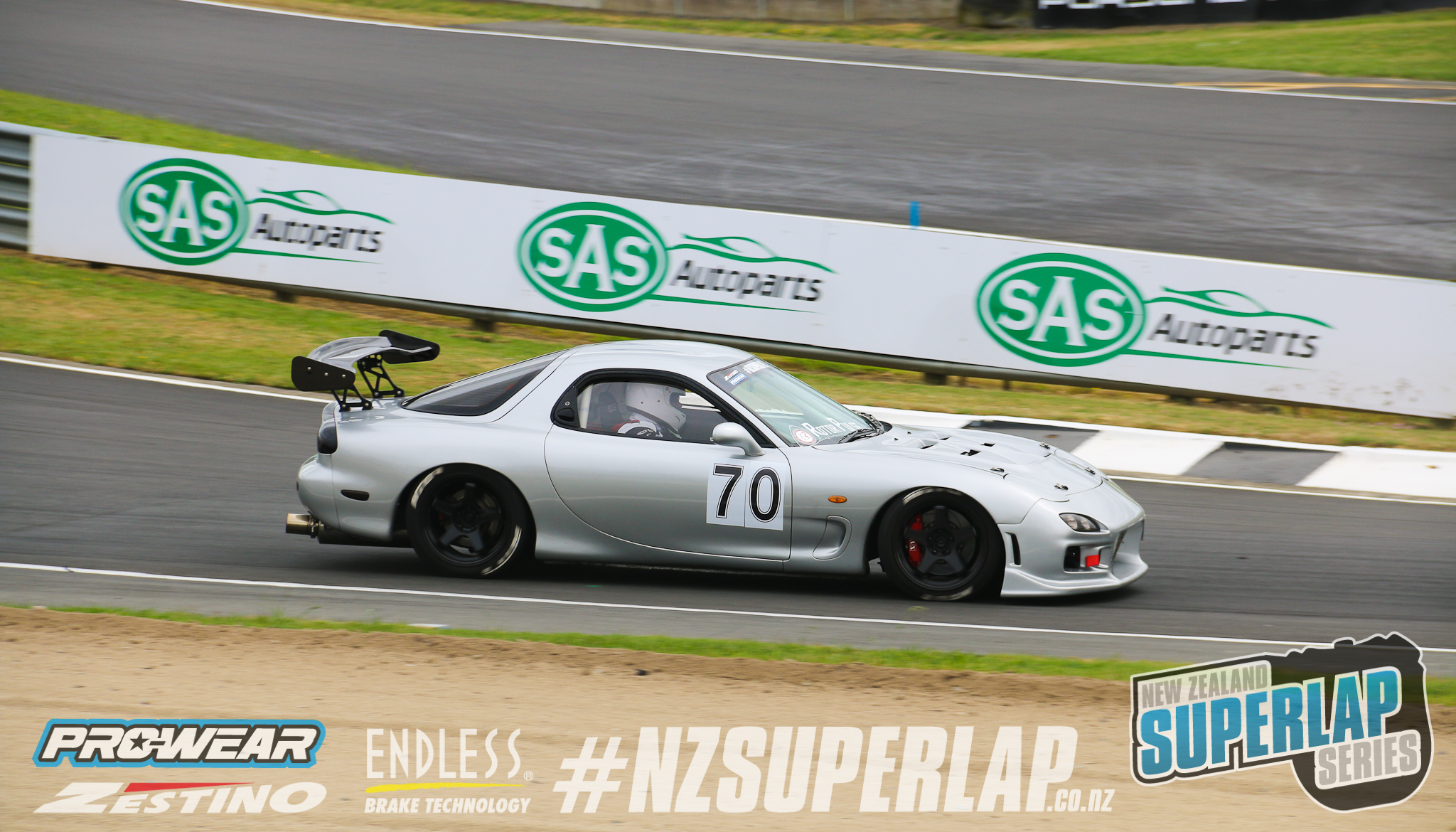 Street 4WD saw the return of Luke Parker's tidy Evo pulling out a new PB of 1:15.685 – he gave us all a scare pulling into the pits full of smoke, but an overnight cleanup saw no further issues. Jeremy Smith finally got to put down a lap after a few false starts last season – his Impreza put down a great time of 1:18.164. Aussie import, Eric Yamashita, put street tyres onto his R33 GT-R for a bit of fun but could only record a 1:20.012 before a smoky engine saw him head home early to preserve his engine and do some diagnostics to ensure he can be at round 2. Michael Nealis in the Legacy Wagon couldn't match last season's 22, but came close with a 1:23.166 to round off the Street 4WD competitors.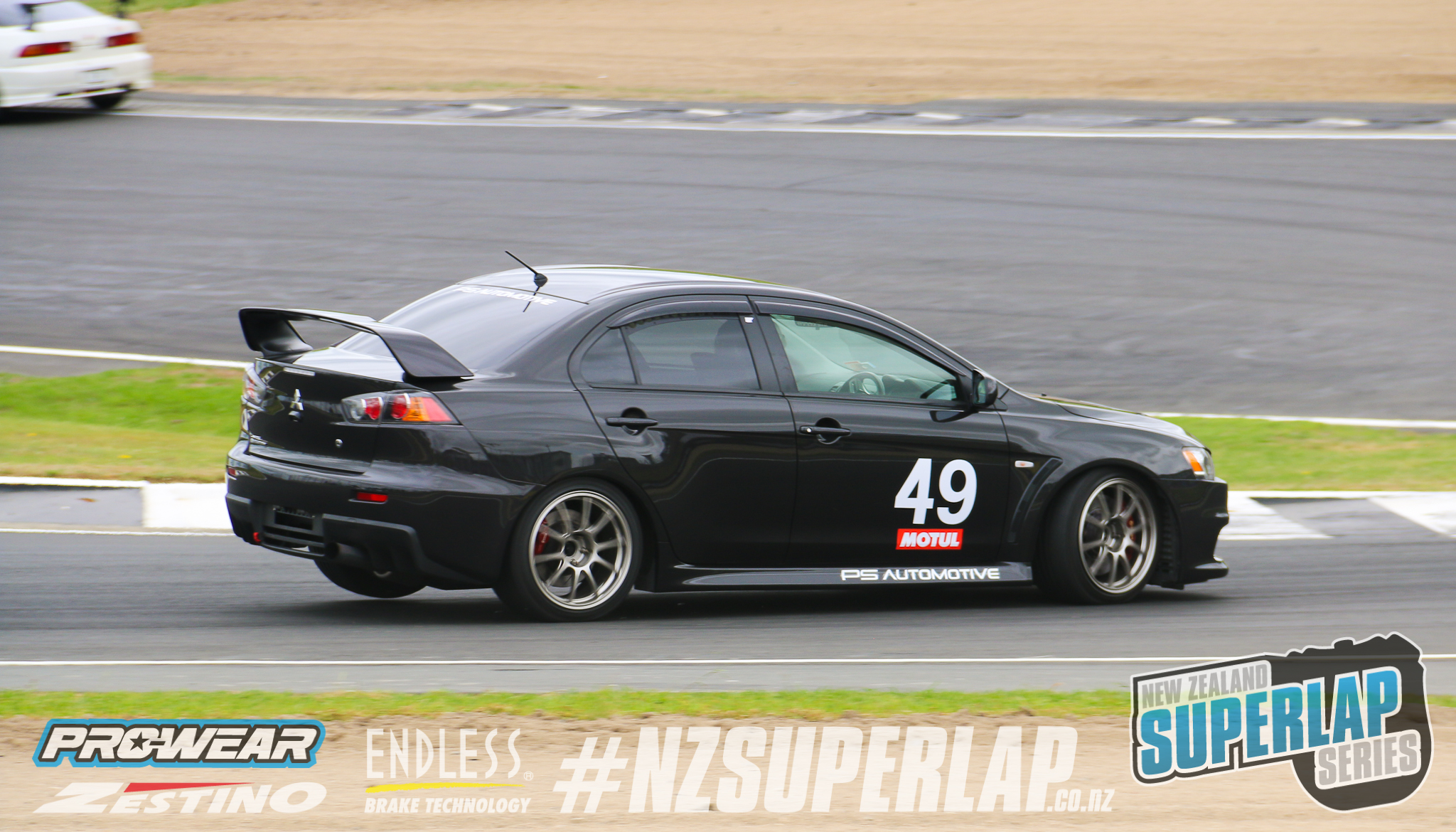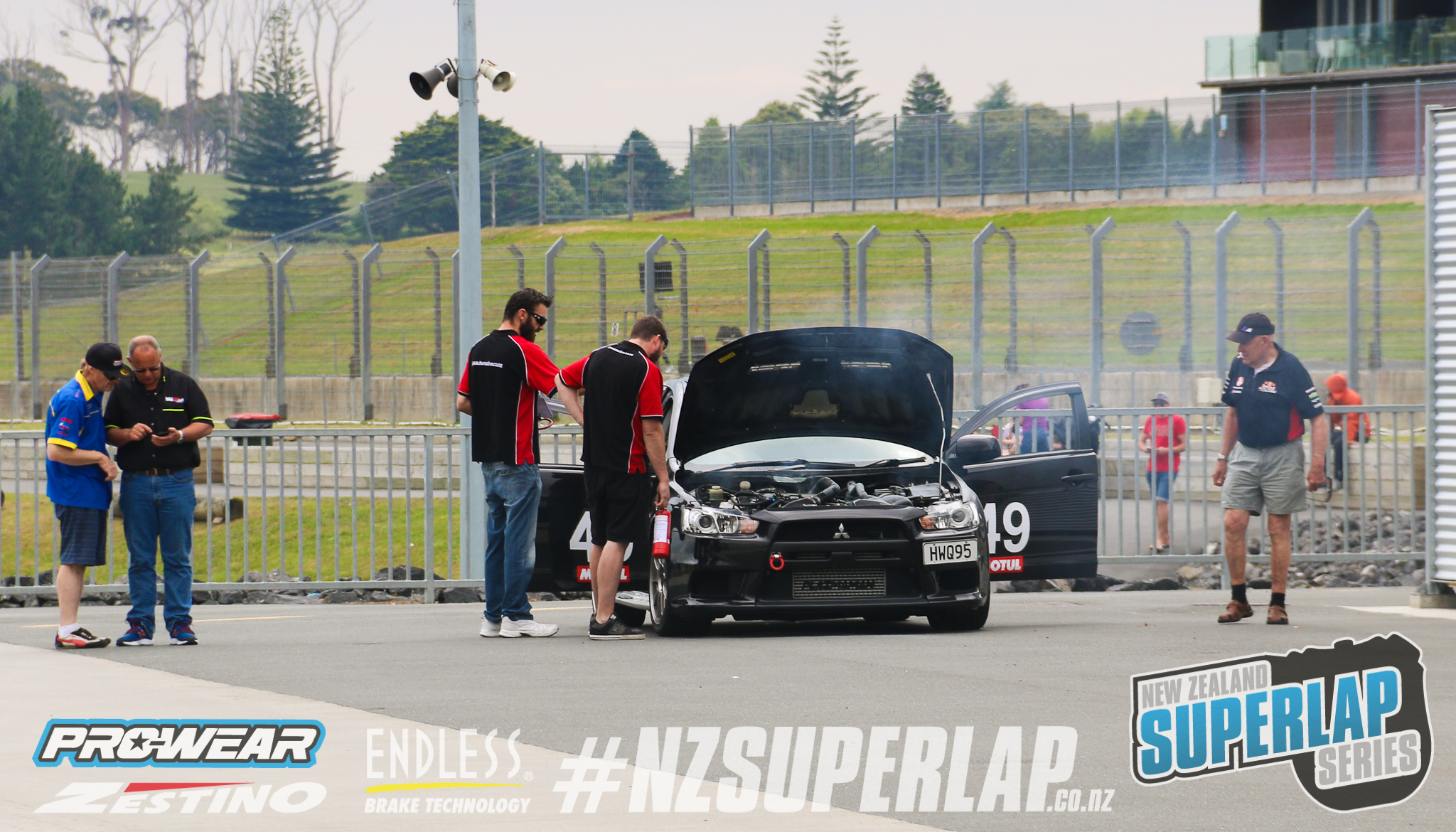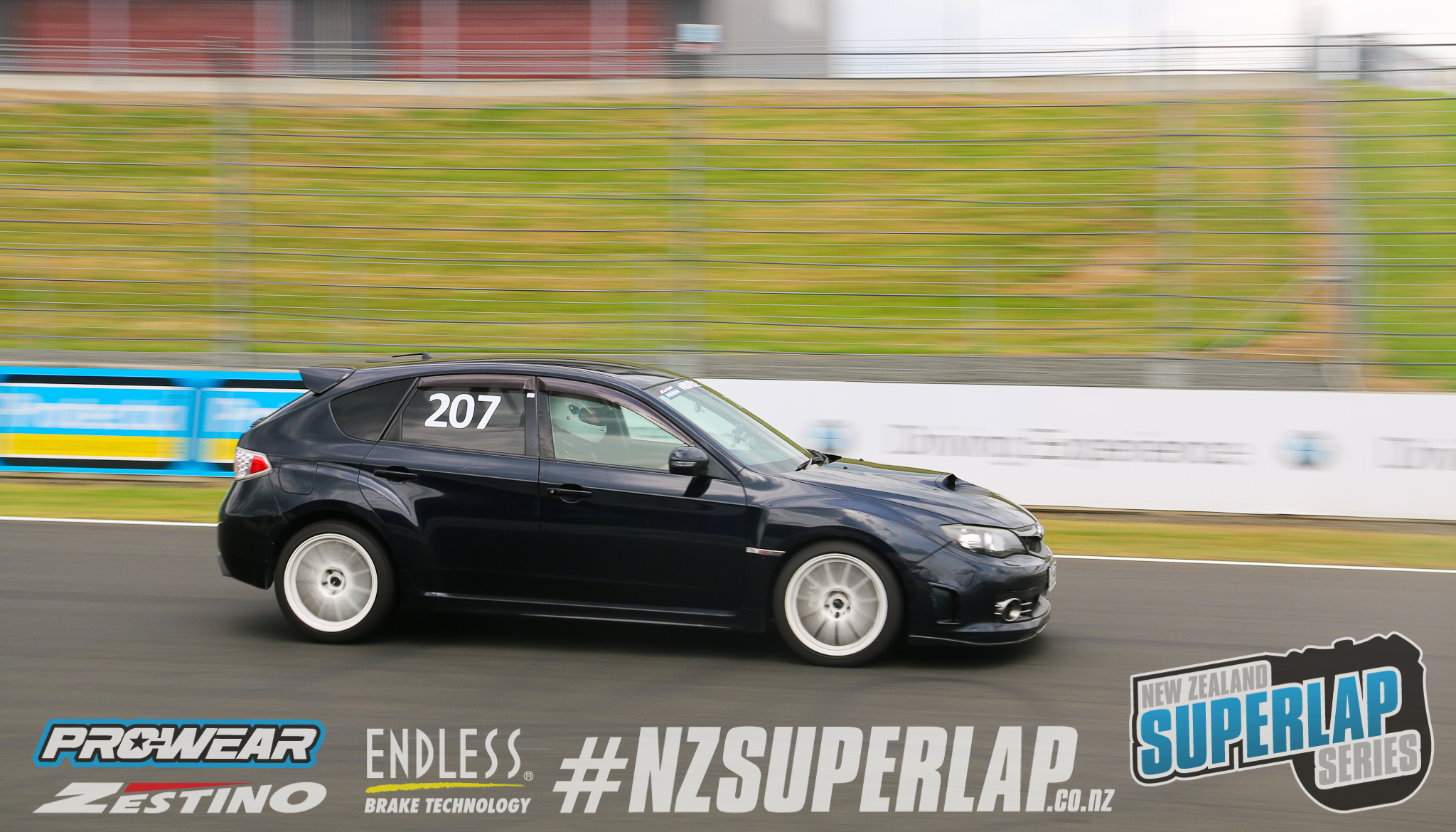 Street 2WD was panic stations when 2 days before racing, the reigning Street King Matt Gray found an issue with his new engine while tuning – not one to leave Princess in the shed, Matt went and hustled another engine and locked himself in the shed till it was ready – finally making it to the track on Sunday and smashing out a 1:12.624 – it's a little short of his PB, but a superb time given the circumstances and we can't wait to see Matt's Supra smash out some new track records over the season (no pressure!). Darren McDonald's Calais didn't want to miss out on the drama and had a minor fuel fire mid-track leaving Darren with some work to do before the next round but currently holding a strong second spot with a 1:16.751. Adam Ostermeyer in the gold MX5 slotted into third spot with 1:19.242 followed closely by Bryce Kamizona's Civic on a 1:19.797. Antal-Rafael Sabo was having his first shot at Superlap in his well-presented Supra and improved consistently over the weekend to end up on a 1:22.623 which should improve again with some simple changes. Andrew Baird's BMW did a best of 1:23.772 and Francois Fourie wasn't going to let an incomplete racecar ruin his fun so he went out and go himself a Toyota MR-S to fang around the track and get some laps under his belt – he came home with a 1:28.359, and more importantly, a knowledge of the track that will really help him when his primary car is ready to come out of the stable.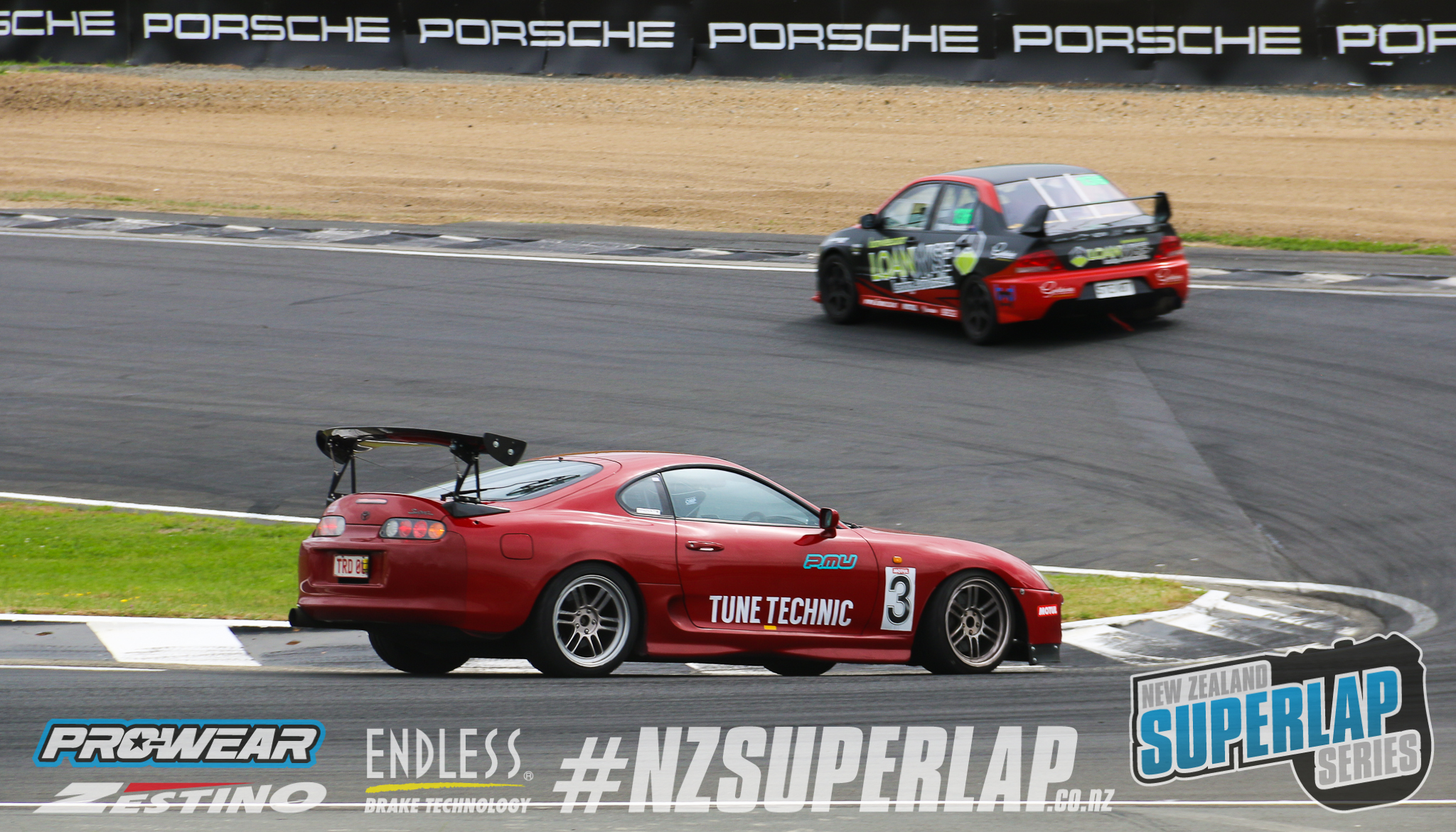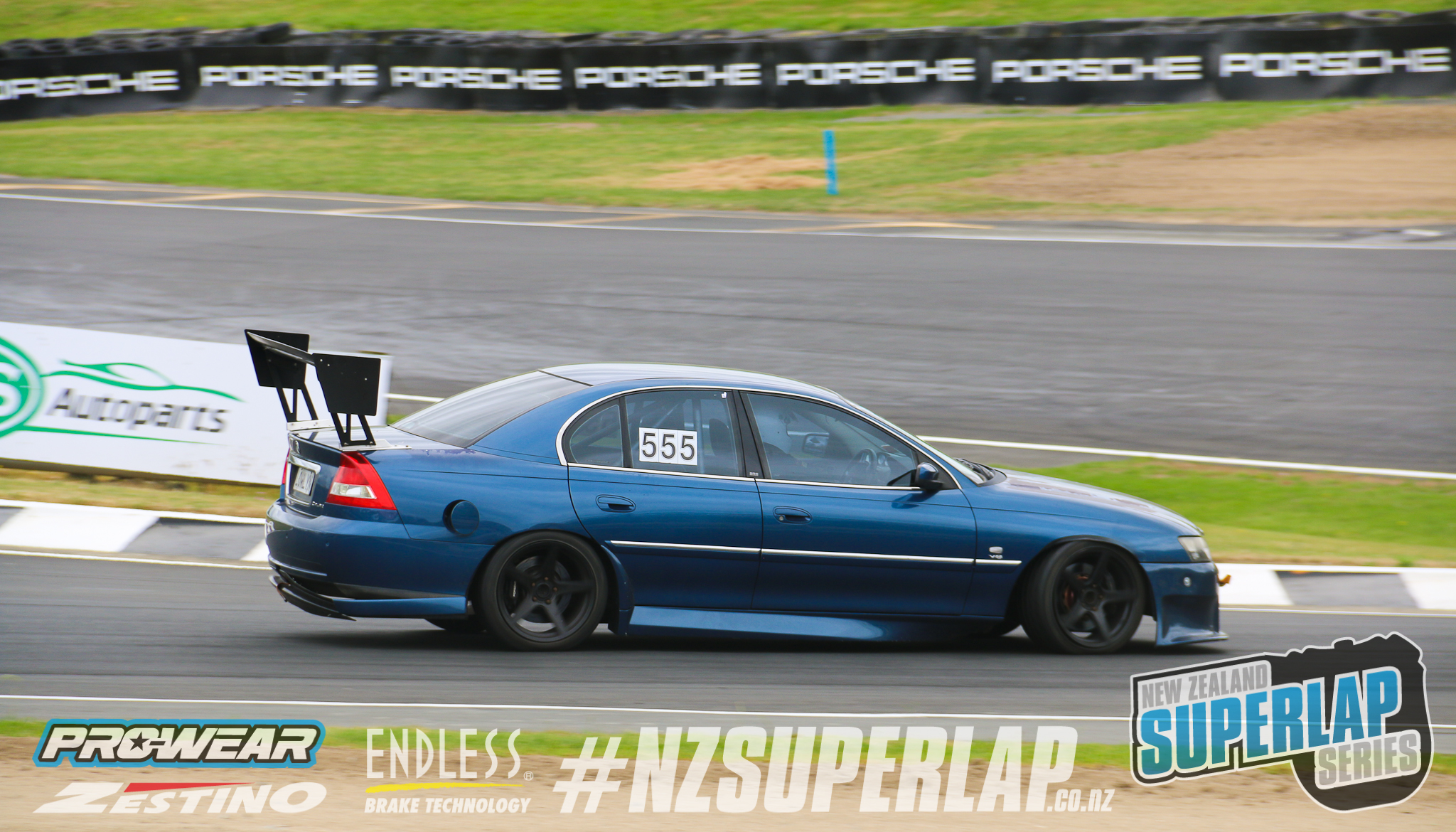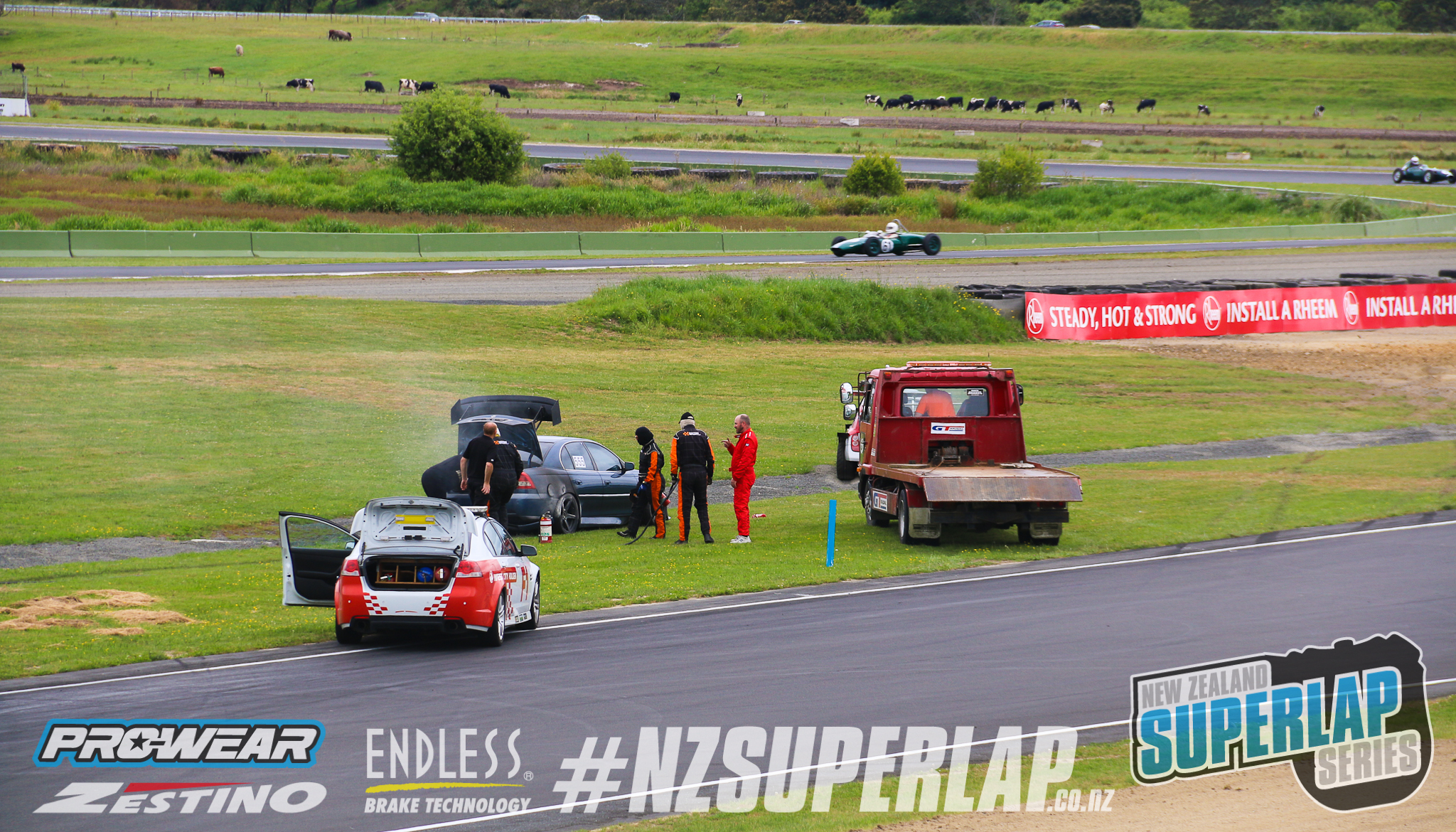 The shootout at the end of Sunday was a bit of a non-event, with the air and track temps too cooked for anyone to really think they were going to pull out good times, so only a few cars lined up for it. What this did mean was that, under the supervision of Motorsport NZ Stewards, we were able to trial the shootout being run as slowest car to fastest (currently outside of our permit, but one of the many changes being looked into for the series). This should make the shootout very exciting when there are close battles at the top of the table in future.
Additional mention goes out to Leon Scott in his well-presented Mitsubishi Evo. Leon took out the fastest time of the weekend with a very impressive 1:07.857 on hankook dot z214 (Dual Grooved Slicks) which put him out of Pro Open contention, but never the less, still a great time under Exhibition!
As always, a huge thanks to all of the drivers, crews and supporters who have worked tirelessly over the off-season and especially the final few days coming into our first round. There would be no Superlap without you all. To Prowear, Endless Brakes, and Zestino Semi Slicks for your partnership. HRC for hosting the event, and all of the officials and volunteers who make these days run so smoothly. Thanks also to Peach, who after running into ECU issues the day before was unable to bring her Civic to compete but she still came and spent some time in the commentary booth to support our series. Round 2 takes us to Bruce Mclaren Motorsport Park in Taupo, on January 6th & 7th, 2018 so between the festive celebrations I expect there will be a few busy sheds with lights on at all hours ready for the cars to come out fighting fit. See you there!
Words: Kerri Mareeba
Photos: Kaz Kostiuk-Warren